RobertStJohn.com
Blackberry Farm's Asparagus Bread Pudding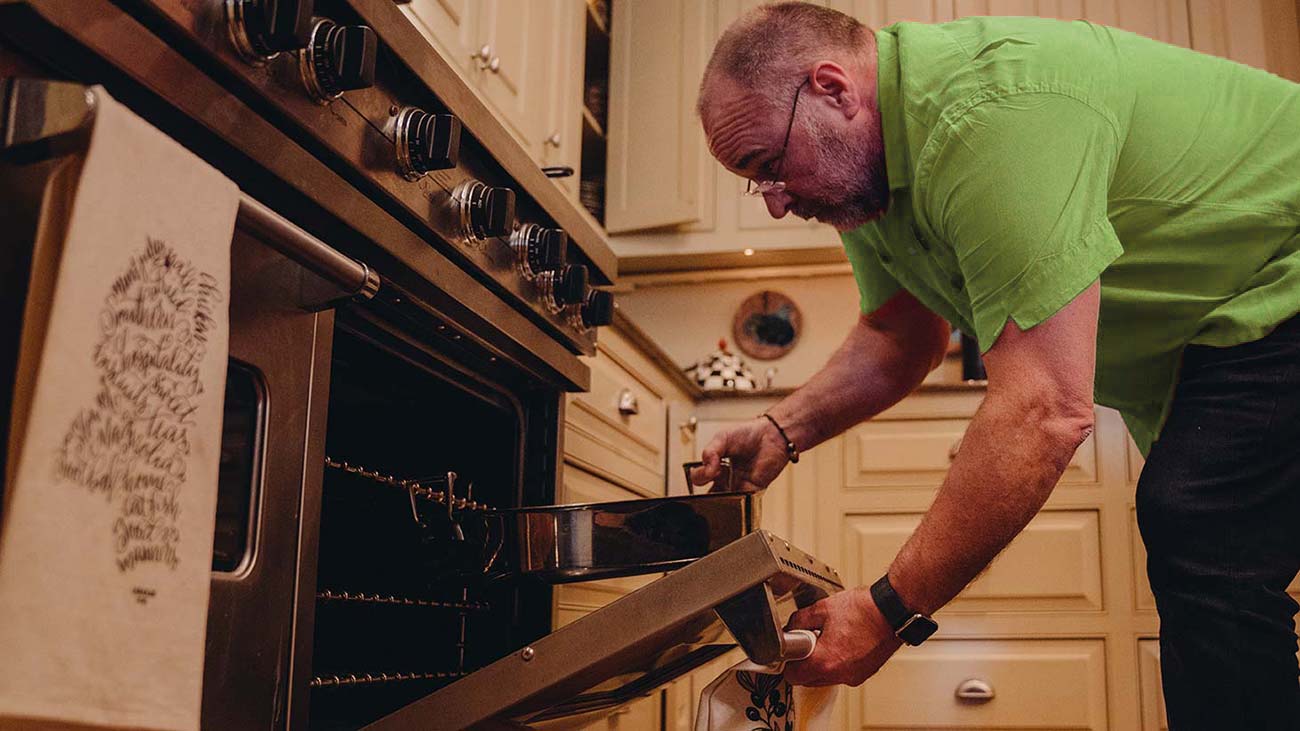 Ingredients
2 cups small diced yellow onion
1 cup small diced celery
2 cups small diced red bell pepper
8 ounces (8-10 spears) asparagus, blanched, shocked large dice
1 tsp Olive oil
1 tsp minced garlic
¼ cup muscadine wine
1 Tbsp  chopped fine basil
1 Tbsp chopped fine parsley
4 Eggs
13 ounces (12-15 thin slices) dried and cubed bread
1 Tbsp salt
1 tsp cracked black pepper *crème fraîche
1 cup whole milk
1 tsp ground mustard
Pinch of ground ginger
Instructions
Preheat oven to 350 degrees.
Saute onion, celery, and red pepper in 1 teaspoon olive oil for 1 minute.
Add garlic and continue for 30 more seconds.
Deglaze the pan with Muscadine wine, (Muscadine is preferred due to its sweetness).  Let cool.
Place vegetables and the bread cubes in a large mixing bowl.  Add blanched shocked asparagus, herbs, eggs, crème fraîche, milk, and dried spices.  When mixed well, let sit for 30 minutes, refrigerated, allowing the bread to soak up some of the liquid.
Spray 8-ounce ramekins with pan spray.  Fill ramekins ¾ full with bread pudding mixture.  Place in a deep glass, stainless steel, or porcelain dish.
Cover with foil and bake for 15 minutes.  Remove aluminum foil and continue to bake for an additional 15 to 20 minutes until firm and golden brown.
Loosen bread pudding from around the edges with a knife and turn out onto a bowl.
Accompany the asparagus bread pudding with a broth of reduced mushroom stock, heavy cream and fresh herbs, a saute of fresh wild mushrooms, and caramelized cauliflower.
*Crème Fraiche can be substituted for with sour cream.  If you want to make crème fraîche allow 2 days and combine 1 quart heavy cream with ¼ cup buttermilk in a hot container (i.e. one that has just been run through the dishwasher or run under very hot water for a few minutes and dried).  Cover the mixture tightly and place in a warm spot in your kitchen (near the stove).  After 2 days, store in the refrigerator and you have crème fraîche!
© Copyright 2023 unless otherwise noted. New South Restaurant Group • 3904 Hardy St Hattiesburg MS 39402 • 601.264.0657