RobertStJohn.com
Black and Blue Nachos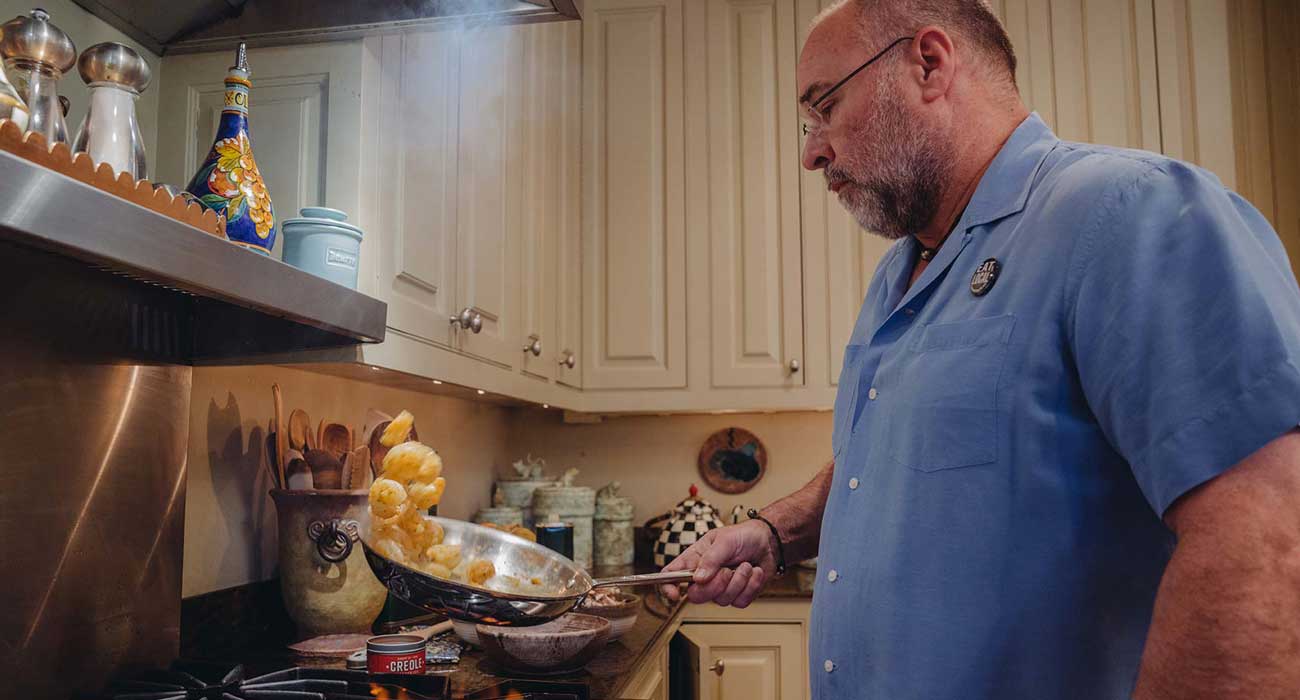 Ingredients
4 6-inch corn tortillas
2 tsp olive oil
2 TBL minced shallot
2 TBL minced yellow onion
1 tsp minced garlic
1/2 tsp salt
2 TBL minced sun-dried tomatoes
1 tsp dry basil
1/4 cup milk
3/4 cup blue cheese crumbles
1/4 cup shredded pepperjack cheese
1 tsp fresh ground black pepper
Instructions
I use filet mignon, but ribeye or a New York strip would work well, too.
Cut the tortillas into eighths (as you would a pie).
Use peanut or vegetable oil for frying the tortillas. Fry the tortilla chips according to the directions on the package. Season lightly with salt.
Place olive oil in a small sauté pan over a low heat. Add onions and shallot and cook for three to four minutes. Stir in garlic, salt, tomatoes and basil and cook two minutes more. Stir often to prevent the sun-dried tomatoes from burning. Add milk and remove from the heat. Allow to cool completely.
In a mixing bowl, combine the sundried-tomato/onion mixture with the cheeses. Add pepper.
Refrigerate until needed.
For the Blackened Filet
1/2 pound beef tenderloin, cut into 2 inch long strips, 1/2 inch in diameter
2 TBL blackening seasoning
2 tsp kosher salt
2-3 TBL light olive oil
Dust the strips of beef in the blackening seasoning and sprinkle with kosher salt.
Heat olive oil in a cast-iron skillet over high heat. Scatter the beef over the surface of the hot skillet. Turn the meat after 1-2 minutes and cook evenly on all sides. Do not overload the skillet. You may need to cook the beef in batches depending upon the size of your skillet.
The beef can be cooked in advance and held until you are ready to serve the nachos.
To finish:
Preheat oven to 375
Place the individual tortilla chips on a large baking sheet.
Place one-two tablespoons of the cheese mixture on the center of each tortilla chip, top with a blackened filet strip. Bake five minutes or until cheese is melted.
Top with fresh chopped parsley and serve.
Yields 32 individual nachos
© Copyright 2023 unless otherwise noted. New South Restaurant Group • 3904 Hardy St Hattiesburg MS 39402 • 601.264.0657