RobertStJohn.com
Barbara Jane's Layered Cream Cheese Spread
Takes some work, but is worth the effort. Mango chutney can be substituted for the peach preserves.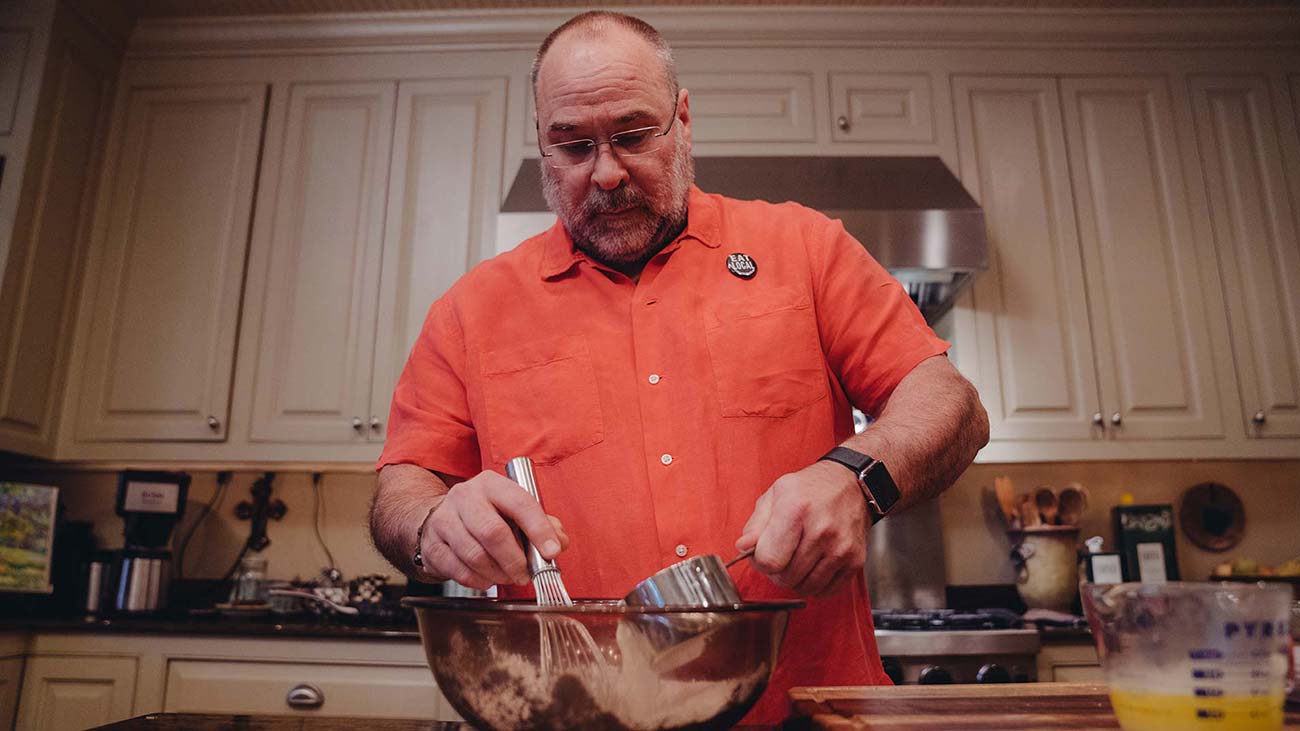 Ingredients
2 Tbsp olive oil
1 /4 cup onion, minced
1 tsp garlic, minced
1 1 /2 tsp Creole seasoning
1-10 ounce package frozen spinach, thawed and squeezed dry
1 pound sharp cheddar cheese, grated
1 /2 cup toasted pecans, chopped
1 /3 cup mayonnaise
3 Tbsp sour cream
1 Tbsp Creole Mustard
1 Tbsp parsley, chopped
2 8-ounce packages cream cheese, softened
1 /4 tsp salt
1 /2 tsp black pepper, freshly ground
1 /8 tsp cayenne pepper
1 /2 cup peach or apricot preserves
1 /4 cup green onions, minced
1 /4 tsp ground nutmeg
Instructions
Line a 9×5 inch loaf pan with plastic wrap.
Heat olive oil in a medium sized sauté pan over medium heat. Cook onions for 3-4 minutes. Stir in garlic and Creole seasoning cooking two more minutes. Stir in spinach and blend well. Remove mixture from heat and allow to cool.
In a mixing bowl, stir together the cheddar cheese, mayonnaise, sour cream, toasted pecans, Creole mustard, and parsley. Blend it very well, and spread half of this mixture into the bottom of the lined loaf pan.
In a separate bowl, combine one package of the cream cheese and the cooled spinach mixture. Blend well and spread over the halved cheddar-pecan layer of the loaf.
Next, spread the remaining cheddar mixture into the loaf pan.
Using the paddle attachment of an electric mixer, beat remaining cream cheese until light and creamy. Add salt, black pepper, cayenne pepper, preserves, green onions, and nutmeg. Spread final layer into the loaf pan and wrap very tightly with plastic wrap.
Refrigerate for 4-6 hours before serving (also freezes well, must thaw eight hours before serving).
To serve, sink the loaf pan into a warm water bath for 1-2 minutes. Do not let water seep into plastic and reach mold. Un-mold onto serving platter and remove plastic wrap.
Yield: 20-25 appetizer servings
© Copyright 2023 unless otherwise noted. New South Restaurant Group • 3904 Hardy St Hattiesburg MS 39402 • 601.264.0657