The more time I spend as a parent the more I appreciate my mother and the job she did raising my brother and me. I've had it easy. Her road was much tougher. She married at 21 and was widowed at 33. She was left with two boys, a house under construction, and an art degree. She scaled back the house plans, went back to school, got her Masters degree, taught private art lessons, and sold her art to friends, at art festivals, and in gift shops to keep us afloat in the first few years after his death.
My brother was ten years old when our father died, I was six. He became the man of the house. I became a constant challenge. Our mother played the dual role of mother and father and never remarried. There were a couple of boyfriends along the way, but nothing ever materialized as she dedicated her life to the raising of her two children, so that's what she did, and did well.
When she was widowed and faced with the prospect of having to raise two boys, she knew that she couldn't play football, and she didn't know how to hunt, but she figured she could learn how to fish. So, she purchased a small plot of land up the Pascagoula River on Johns Bayou in Vancleave, Mississippi. There had been several generations of Hattiesburg families who had fish camps in that area. We were the latecomers with the mobile home two blocks off the water. It was the smartest move a widowed mother of two young boys could make. We spent our summers down there and it was in those waters that my love for seafood was born. We had a blast.
The fish camp also served as a place that probably kept me from getting into even more trouble earlier than I would have had I been at home on weekends. We lived on an art teacher's salary, so my brother and I started working at early ages. He had a paper route, and I mowed lawns. When he turned 15, he went to work for a wrecker service and the newspaper. When I turned 15, I began working as a radio station disc jockey. If we were going to have any spending money or a vehicle to take us to work, we were going to have to pay for it. The three of us were a working, happy family.
We were also blessed with loving grandparents who stepped up to the plate and helped out, often. My paternal grandmother and uncle helped pay school tuition early on and my maternal grandmother and grandfather were there to help my mother with the child-rearing aspects. My grandfather was the primary male influence in my life.
I was no cakewalk. I was a wild teenager and created many challenges and stressful nights for my mother until I got clean and sober at the age of 21. At that time, I already knew I wanted to open a restaurant but had no clue as to how to do such a thing. So, as she had done before me, I went back to school and got a degree in hospitality management.
When I was 26, I opened my first restaurant. My mom begged me not to do it. "You'll ruin the family name," she said. I told her, "I don't think the family name was that good to begin with." and pressed on. In his will, my paternal grandfather left a small plot of land in Perry County that I sold for $25,000. That was my stake in opening that first restaurant. Despite my mother's hesitancy early on she became a quick fan and has told me on many occasions over the last 33 years that she is proud of me and that my father would be proud of me, as well.
She taught art for 50 years and retired when she was 80-years old. Fifteen years ago, she came to us and told us she wanted to move from our childhood home into something more manageable. After 10 years there, she came to my brother and me and told us that she needed to be moved into an independent living facility. And just two years ago, she told us it was time to move into assisted living.
The move into assisted living didn't happen until last fall and was done in the middle of a global pandemic which was not easy on several levels. Change is not easy for anyone especially someone moving into assisted living.
The lockdown was underway, and the lockdown was brutal, especially on elderly people in independent and assisted living facilities. They were on almost complete lockdown for 10 months. Solitude is not good at that stage of life. We were able to see our mother on occasion but mostly through safely spaced outside visits with an appointment. And even those appointments were limited.
On Christmas Eve we brought her over to my house for a very small dinner and then on Mother's Day we were able to take her to a quick lunch. For the last several months she's been asking to go back to church. This past weekend she got that wish.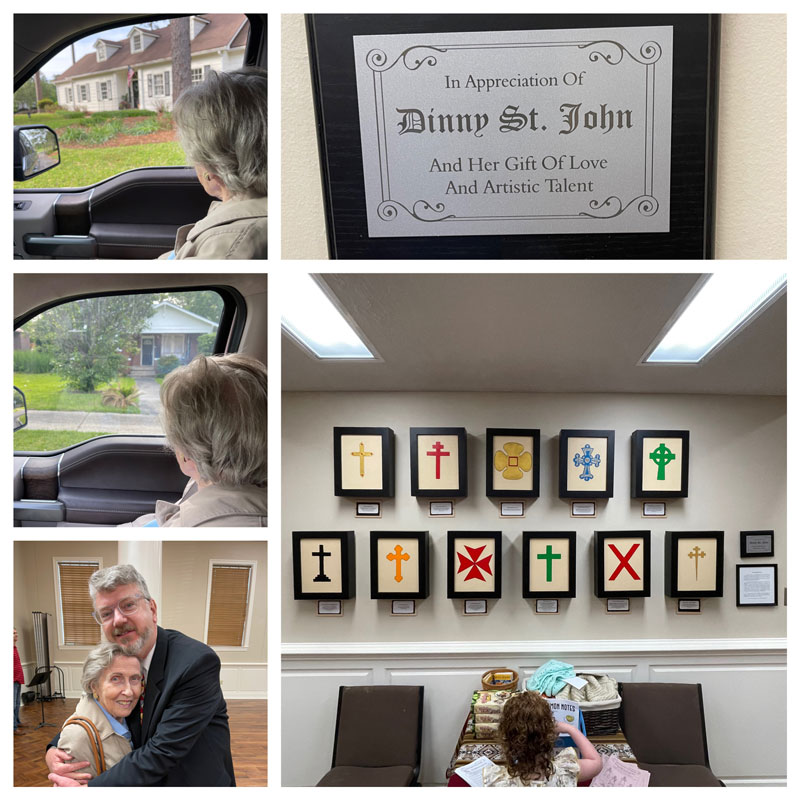 I picked her up early in the morning and we had breakfast together at my breakfast joint. She ate well. With 45 minutes to spare before the church service started, I figured we could ride around through our old neighborhoods and see what she could remember. Her memory was keen and sharp that day. We drove by our old house and talked about the neighbors who were still there and the neighbors who were gone.
It was a great neighborhood to grow up in. My father and many of his childhood contemporaries bought lots together within blocks of each other and built homes and had children all around the same time. It's unfortunate that he never lived to see the house built and how great the neighborhood turned out. But I hope he somehow, somewhere, takes solace that we had a very wonderful childhood and feel blessed to have grown up in that place
Then we rode by the house we lived in before that, and then by my grandmother's house where my father grew up. It was better than any medicine a doctor could prescribe. She lit up as she remembered detail after detail. Her memory is not what it used to be. But who's is? My brother and I are co-chairs of the Alzheimer's Association of Mississippi it's a cause that is near and dear to our hearts.
She was ecstatic about being back in the church that she's been a member of for 67 years. A decade ago, she painted a series of crosses and donated them to the church. After renovations that were undertaken during Covid, the church brought them all together, displayed them on one wall, and placed a plaque next to them in her honor. It was a great surprise for her, and she was happier than I have seen her in months.
As we sat down just before the service started, she leaned over and whispered, "I feel like I'm home." I whispered back, "You are."
Life moves forward.
Onward.