SANTO STEPHANO DI SESSANIO— Wyatt Waters and I are the end of a four-day break between leading two Palate to Palette group tours through Rome, the Amalfi Coast, and Naples. Our first group's week went off without a hitch. Weather that promised to be threatening a few days before the start of the trip, ended up being perfect the entire week. In addition to leading two groups, we are finalizing our next book, "Palate to Palette Travel Journal" (due out next fall), and filming season five of our television show, "Palate to Palette." The break is timely and welcome.
The dilemma was— where to spend these four days off? We needed downtime, but we also needed to be somewhere that would add content to the book and the television show. My original plan was to leave Naples and head back to Rome with our wives, and the tv crew. But I cooled on that idea thinking we would cover enough ground in the capital city the week we would spend with the two groups. We could go north, but we've already covered Venice, Bologna, Milan, and the entire Tuscan region (extensively) over the past several years. Puglia was the answer. It would be the perfect place to wander and meander without a mission.
Puglia is a region in the southeast corner of Italy, near the heel of the boot. It has an entirely different look, feel, and vibe from the rest of the country. I first travelled there with my family in 2011 and was smitten immediately.
Puglia turned out to be the perfect call— for the book, for the tv show, and for our peace of mind.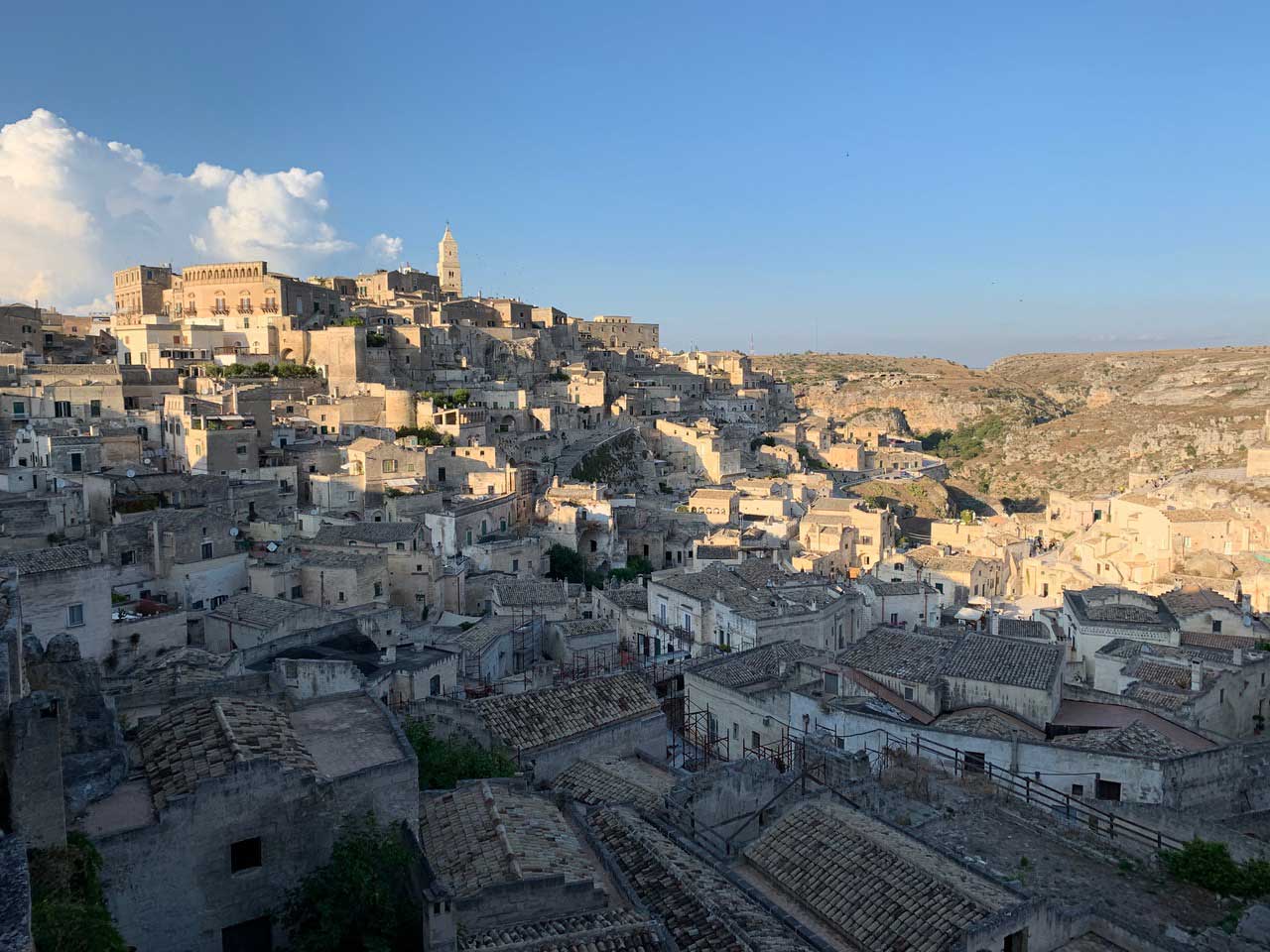 Once we said goodbye to group one of our Palate to Palette Tour group in Naples, we headed south to Matera, one of the oldest continually inhabited settlements in the world (it was settled in the 10th millennium BC), and is a city that was declared the European Capital for Culture for 2019. We attended an orchestra conductor's competition and Waters completed a couple of paintings. Parts of the town looked straight out of biblical times, which makes sense as it has been the filming location for dozens of films, including Mel Gibson's "The Passion of the Christ," the 2018 "Mary Magdalene," Richard Gere's "King David," the new "Ben Hur," "Jesus Christ Superstar," and the new James Bond film, which just finished shooting there. It was a quick visit to a very unique town. Goal one: accomplished.
Next, we headed deeper south into Puglia to visit the town they call "The White City," and "The Queen of Olives," Ostuni, which is the town I visited with my wife and two children back in 2011. Ostuni, set high on a hill a few miles away from the Adriatic Sea, has been inhabited since the Stone Age and has been on my need-to-get-back-to list for eight years. It is notable as the site where the skeletal remains of Delia— a woman who lived over 28,000 years ago, during the Paleolithic Period— were found. Goal two: accomplished.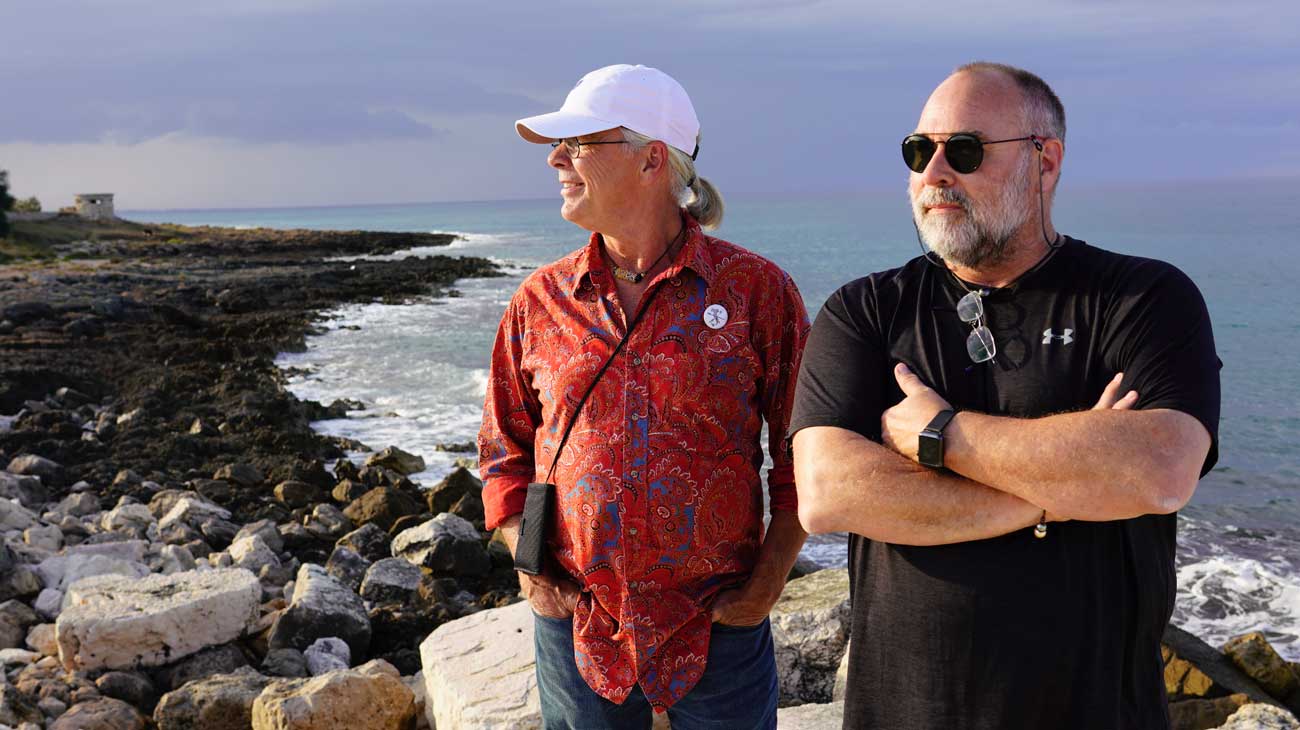 There are hundreds of thousands of olive trees between Ostuni and the sea, and many are over 2,000 years old. They are gnarly and bent and spilt and so ugly they are beautiful. The oldest olive tree in the world is located a few kilometers north of Ostuni and is between 3,000 and 4,000 years old. From the first time I saw those olives, I hoped Waters would get to paint them one day. He did. Goal three: accomplished.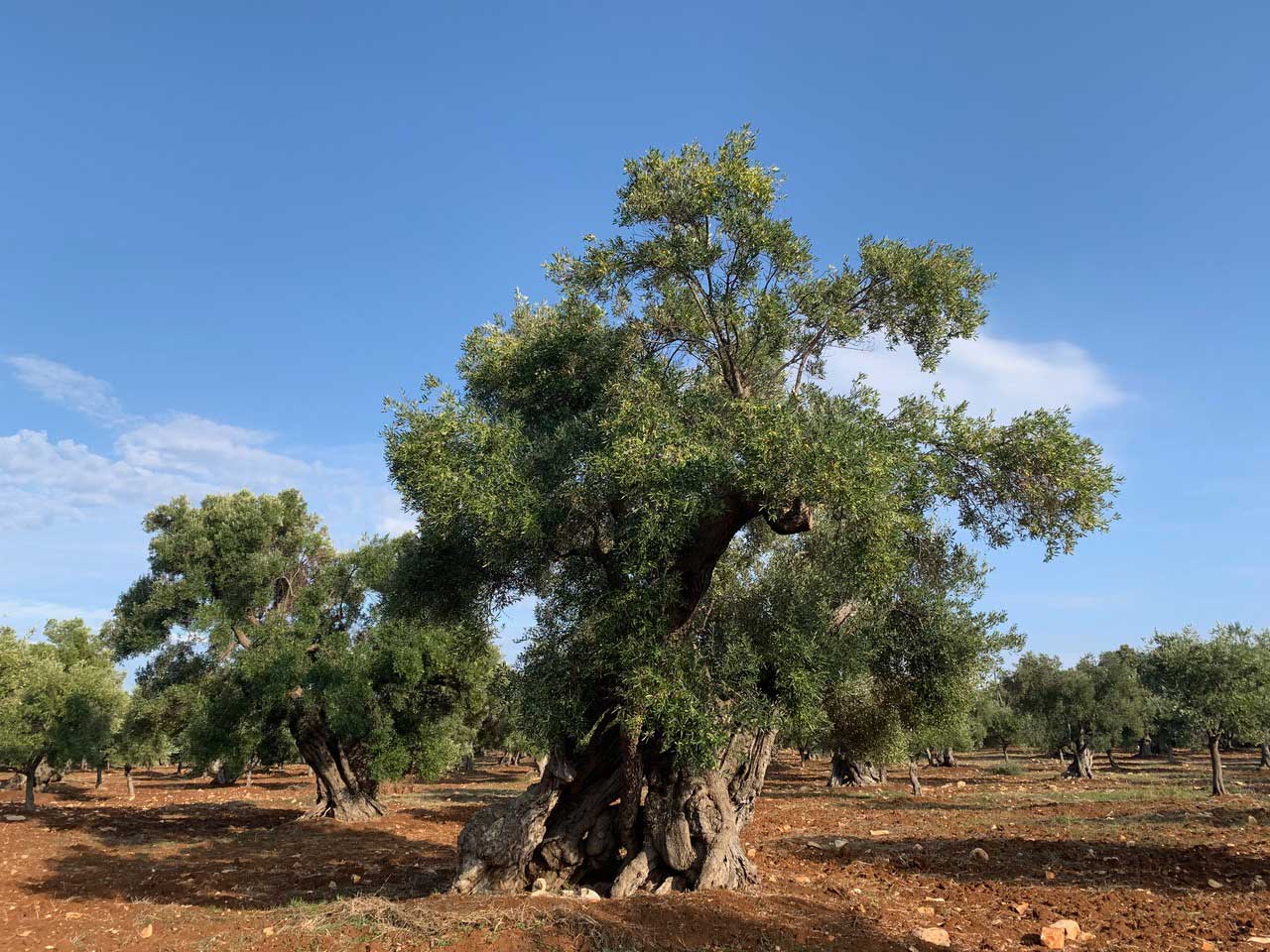 The first two stops were steeped in history and beauty, and we had a brief pause in the seaside town of Polignano a Mare, which added to the charm. We stopped there long enough for Waters to complete a watercolor of the town's beautiful cliffs (home to the annual Red Bull cliff diving competition). Goal four: accomplished.
Those were memorable visits, but none were quite like the small village of Santa Stephano di Sessiano, where I write this column by candlelight at 5:30 a.m. in front of a small roaring fireplace. The small village of 100 inhabitants is located on a very remote location in the Abruzzo Mountains, 4,100 feet above sea level.
I have been to hundreds of cities all over Europe, and this might be the most unique place I have ever visited. It is certainly the most remote. We were headed north on the interstate and were directed by the GPS to exit onto a small road. Actually "road" is a very generous term for that primitive, rural thoroughfare. It was a one-lane path that wound upward through the Abruzzo Mountains. I had been on European roads like this before in Greece, Albania, Montenegro, and Sicily, but the rest of our crew hadn't. The switchbacks were tight and the drop-offs, sheer, and the path, narrow. Tensions were visible, raw, and exposed. We inched our way ever upward for 30 anxious minutes— not really knowing what we were going to encounter around the next bend, or even what we would find at the end of the road— until we finally reached Santa Stephano, and felt as if we had travelled back in time 700 years. What a surprise. What a payoff for the nerve-wracking ascent. It was perfect.
Santa Stephano di Sessiano is a small pristinely preserved Medieval village of 100 people on top of a mountain. Despite the earthquake of 2009, it is still thriving and charming. The remoteness of this location, and the time of year we are here adds to the charm. We are soaking in the solitude.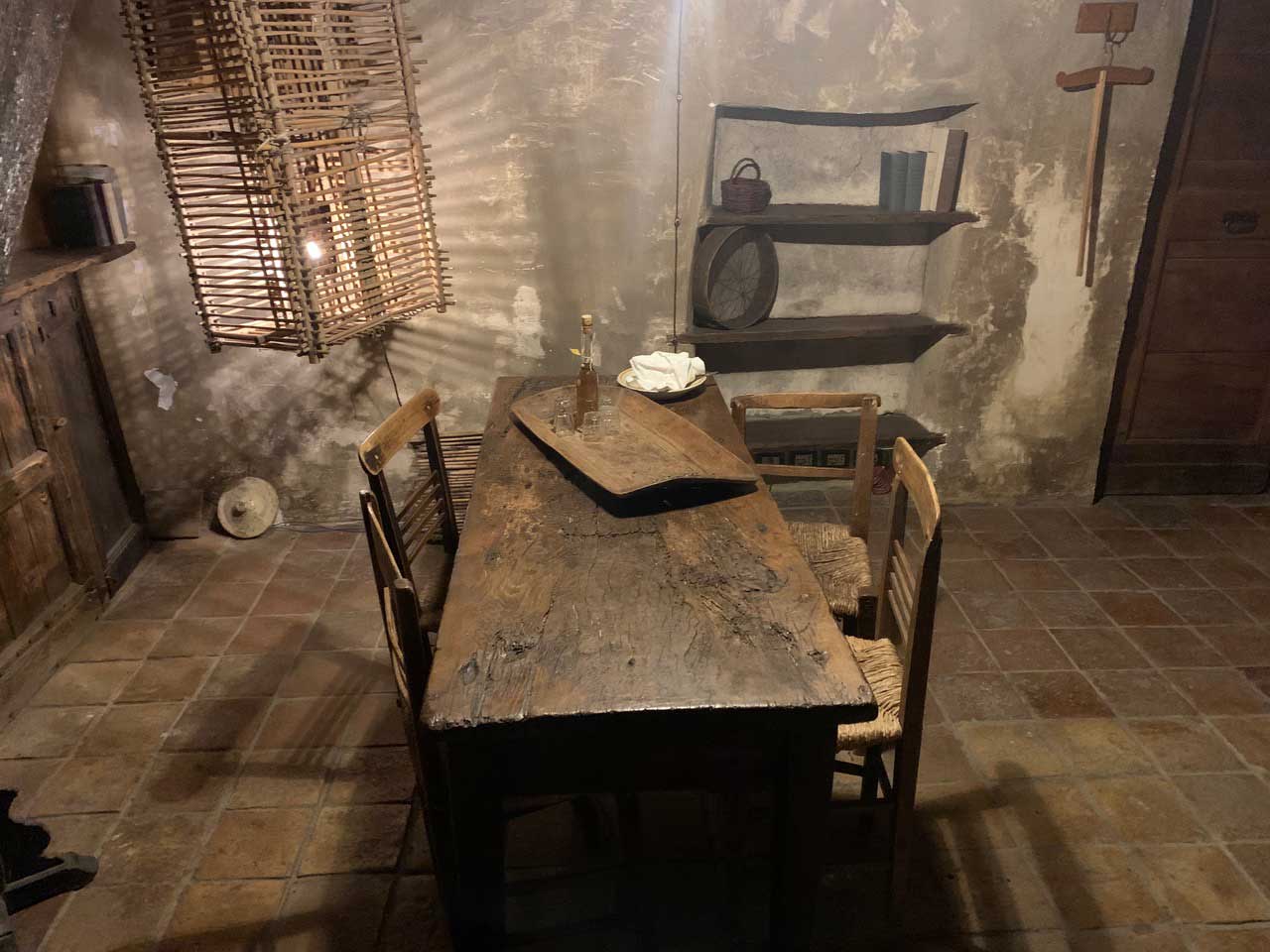 Our hotel, Sextantio Albergo Diffusa, where I write this column, is the most unique property I have ever visited. It is spread out all over the small village and is the most accurate representation of a Medieval inn I have ever encountered. Except for some very primitive electrical wiring, and a very tastefully done and non-obtrusive bathroom, each room was as it would have been hundreds of years ago, down to the furniture, the candles, structure, and the bedding.
Santa Stephano di Sessiano survived on the wool trade, and wool is the primary focus still. The Cantina is a very charming stone-walled wine bar lit by nothing more than a fireplace's glow and candlelight. There we had the most impressive antipasto and charcuterie platter I have ever enjoyed. It was loaded with fine meats, excellent cheeses, fresh fruits, local jams, and creative crostini, and, had we known it would have been so good and filling, we would have skipped dinner at the hotel's restaurant which is on the other side of the small village (only a three minute walk though).
Montefioralle (population 60 people), just outside of Greve, might be a little smaller than Santa Stephano di Sessiano, but not much. The perimeter of this entire village can be walked in 10 minutes. It is a must-visit in my book. Goal five: accomplished.
Having reached all of our goals for paintings, tv content, and book material, and feeling rested and ready to roll with group number two, we will now head into Rome to meet our next group.
Sometimes it just pays to wander and meander without a mission. Some of the best things in my life have come from just being open to opportunities when they present themselves. There is always another adventure around the corner, especially in Italy. Goal six: accomplished.
Onward.
View today's recipe: Roasted Garlic Crostini