It's good to be back home in Mississippi. The adjustment period is over. The jet-lag is gone, and I have completely assimilated back into my American work schedule.
I just spent a month working in Italy. My friend, business partner, and co-collaborator, Wyatt Waters and I led three groups of 25 people each through Tuscany. It took a little longer to get over the jetlag this time, but I never mind it too much. If one has to work, the Chianti Classico Region between Florence and Siena is a pretty nice place to set up shop.
Getting over the change in the physical time clock is fairly easy. Mentally, I am home before the wheels on the plane go up. It's never too hard of an adjustment for me for several reasons. Tuscany is a lot like the American South— the people are hospitable and friendly, it's an agrarian society, they love food, and they love sharing a meal together. The one thing I warn our guests about is that the spaces are so much smaller than what we are used to over here.
The roads, rooms, and restaurants in Tuscany are all way smaller than most in our part of the world. The roads were built for foot and equine travel, and later for small cars. The road that leads to our villa, the Via Roma, is so old that when Jesus was walking around in Jerusalem, there were people walking on that Tuscan road. It's the road that Michelangelo used when he travelled from Florence to Rome.
We tour with groups of 25 people, and there are usually 28 of us at any given meal. Most of the restaurants we visit are in centuries-old buildings that weren't built for large groups of Americans. They weren't even built for restaurants. Most of them are converted Medieval or Renaissance residences. I write this column as I sit at the counter of our breakfast concept, looking into the kitchen. Even though it's probably the tightest space in all of our concepts, I am appreciative of the physical plant we have, and the amount of room we are afforded in all of our restaurants.
At the pizza place we frequent in Tuscany, Vecchia Piazza— home to my favorite pizza on the planet— our group sits at one long table in a cramped, third-floor space. I would sit outside in an alley by the dumpster if I had to, as long as I get to eat their pizza. There's almost no room for the servers to pass, and one chair at the table is so close to the stairs that if that person scoots back too far, they'll be heading down the cramped stairwell head first and backwards. The kitchen is even smaller. I have been eating there for 10 years, and the same two people are always in there making the pizza in a cramped space in front of the wood-fired brick oven.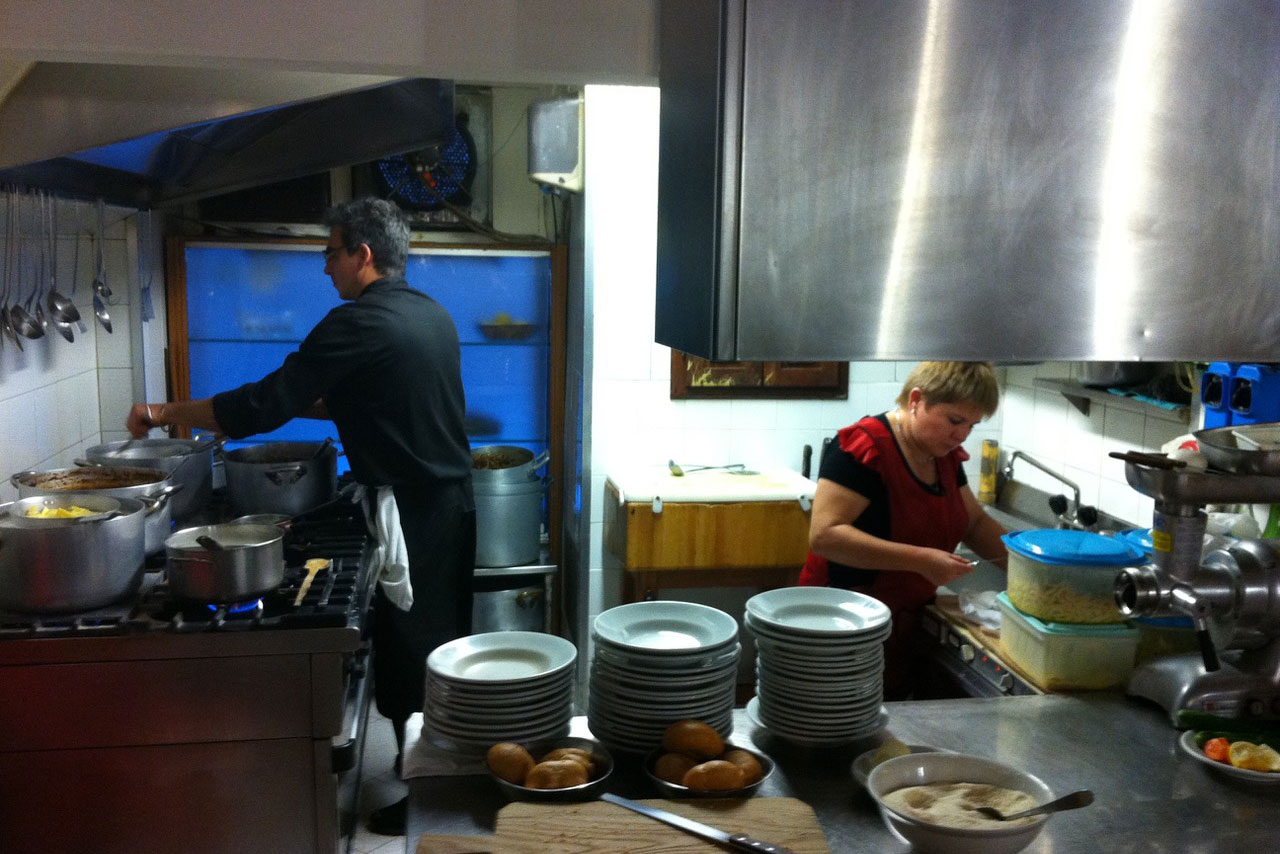 In Siena we eat at, La Torre, a small restaurant behind the tower just off of the Piazza di Campo. It goes against one of my rules for dining in Europe— never eat within a block of a major tourist attraction. Whereas the town square is not an attraction in itself, it is where everyone gathers, and where twice a year (three times on extra special occasions) the Palio— the famous horse race— is held. La Torre's kitchen is the smallest restaurant kitchen I have ever seen. Seriously, ever. It's where all of the cooking, prep, and dishwashing is done, and it's substantially smaller than your average walk-in closet. There's a range, two ovens, a sink, a pasta machine, a couple of small refrigerators, a small butcher's block, and a little bit of counter space.
Yet somehow, they can feed an entire dining room— albeit a small dining room— out of that very tight space. A few weeks ago, I watched Alessandro, the owner, in the middle of our meal, throw together a last-minute bonus course for our lunch by making a scratch batch of homemade long noodles on the spot, and tossing the noodles in nothing more than the sauce in the bottom of the pan of our upcoming osso buco course. It was brilliant, it was tasty, and it was done on a whim in an area that is probably no more than 10-foot by 10-foot square.
My friend, Dario Cecchini, owns a butcher shop in Panzano, just south of Greve. Anthony Bourdain called him "the greatest butcher in the world." He is certainly all of that, but he is also a brilliant restaurateur, and for someone like me who lives, sleeps, eats, and breathes restaurants, his are an amazing study in creative conceptualization and maximizing the use of space. We cram our group into a small dining room just off of the butcher shop and eat an amazing lunch that one would expect to be served in a butcher shop. It's close quarters, but it's worth it.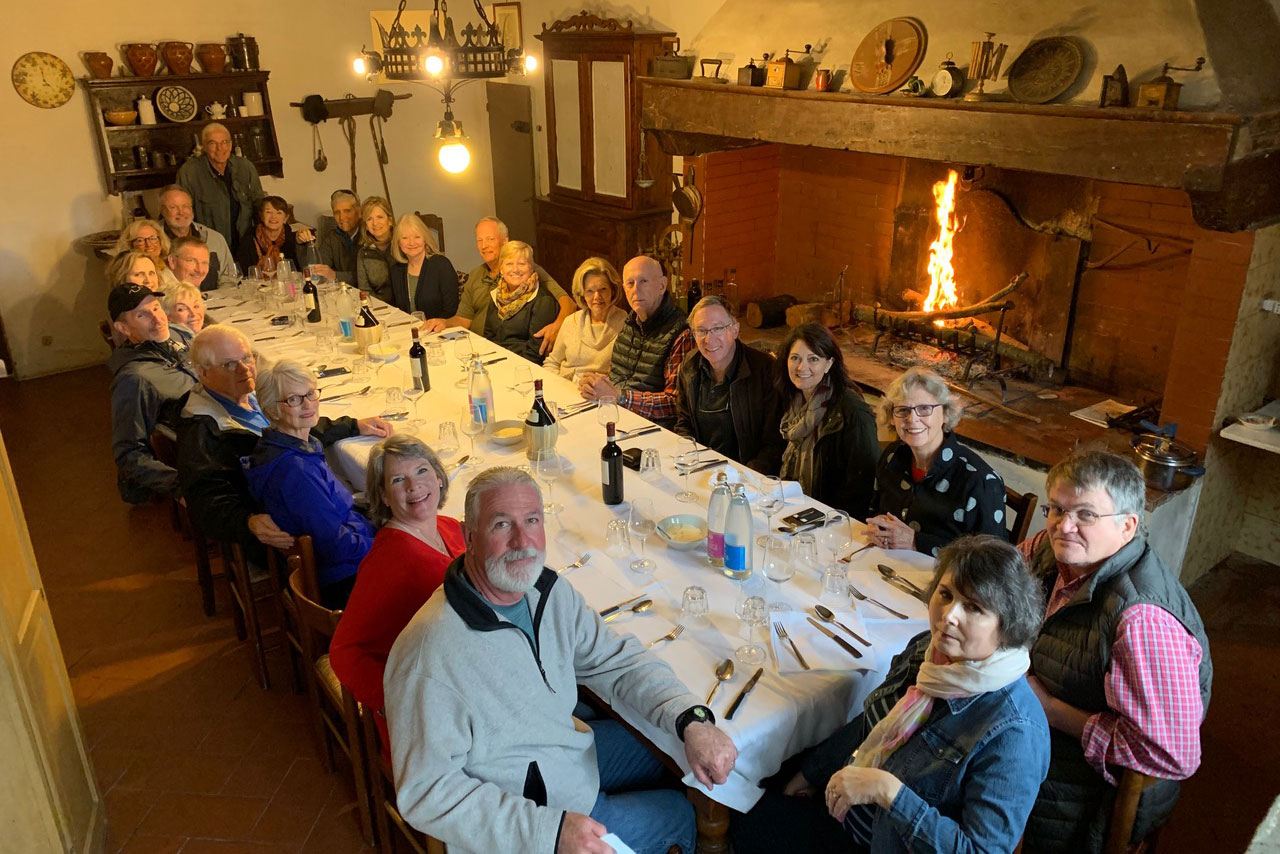 We want our guests to experience "real" Tuscany, not the EPCOTish touristic version of what some Italian might think Americans want to see. For one meal we go to one of our mainstays Caffe Degli Amici, which most of the locals in Tavarnelle Val d'Pesa call "Acli." Like all of the places we visit, it is owned and operated by a small family. Paolo works the dining room, and his mother, Giuliana mans the stoves in a very small kitchen. This year they are in the middle of renovations and we moved our lunch to a 900-year old kitchen in one of the parish churches. It was small and tight, and Giulianna cooked a four-course meal for 28 people on four hot plates, but it was one of the most memorable meals on the trip.
There are people who fall in love with a foreign country and that's all they can talk about. I had an aunt and uncle who used to drone on about France incessantly. I am not one of those people. I love Italy. I'll end up spending two months there over the course of this year. I love the people, the places, the art, the history, and even the small spaces. But Dorothy nailed it when she clicked her heels and repeated, "There's no place like home. There's no place like home."
I am home. I am rested. I am grateful.
Onward.