There is a substantial case of wanderlust deep in my soul, and the call to travel has always been strong inside of me. In the song, "As Long as I Can See the Light," John Fogerty sings, "Guess I've got that old travelin' bone. 'Cause this feeling won't leave me alone." I, too, have one— if not several— traveling bones. Professional travel is what I currently do on a semi-part-time basis, and leisure travel is what I plan to do if I ever "retire" from my day job. Several years ago, I informed my two children not to expect a large cash windfall when I'm dead and gone. Though I told them that they are welcome to join their mother and me, as we travel the globe spending their inheritance. So far, that plan is working out perfectly.
The passport that is stored in a drawer near my bedside table contains dozens of stamps from countries all over the world. Last week I didn't need a passport to travel to the places I visited. I knew the language, the addresses, and the people better than everyone except my co-host, and fellow tour guide, Wyatt Waters, as we led a tour in our home state of Mississippi.
Waters— a fellow Beatles enthusiast— and I have spent the last two years leading almost 200 people through Italy. During one of those tours this spring we came up with the idea of loading a group of people on a bus and touring them throughout Mississippi the way the Beatles toured through England in the movie, "Magical Mystery Tour." We dubbed our trip the Magical Mississippi Tour, and magical it was.
Waters and I have just returned from a full week of introducing 40 fellow travelers to all of the Mississippi music, art, people, and places that he and I have found and fallen in love with as we have worked across the state for the past 30 years.
As the tour leader, I was the recording secretary for the journey. I will now— with the reader's permission— submit the official (though not complete) minutes from the Magical Mississippi Tour 2018:
Our group of 40 started at the Mississippi Museum of Art where Waters led guests— from as far away as Portland, Oregon— through the exhibit. We then walked across the street to the Cathead Distillery to learn how vodka is made. After a Hal & Mal's lunch of fried chicken, red beans and rice, and pork belly barbeque, Malcom White (the Mal in the restaurant's name and the current executive director of the Mississippi Arts Commission) gave— what we now call— a "bus chat" as we made our way to Indianola and the B. B. King Museum. I booked the Alluvian Hotel in Greenwood for our group's first night stay, and the City of Greenwood made us feel more welcome than I have ever felt as they blocked the street off in front of the hotel and greeted us with a concert from the 130-piece Mississippi Valley State University marching band, complete with drum majors, majorettes, and a flag corps. Waters and I were blown away, and our guests said, "I don't know how you're going to top this." After a classic Delta dinner at Lusco's and a concert in the Alluvian lobby by Delta Blues Queen, Eden Brent, we dubbed the first day a major success, and hit the sack.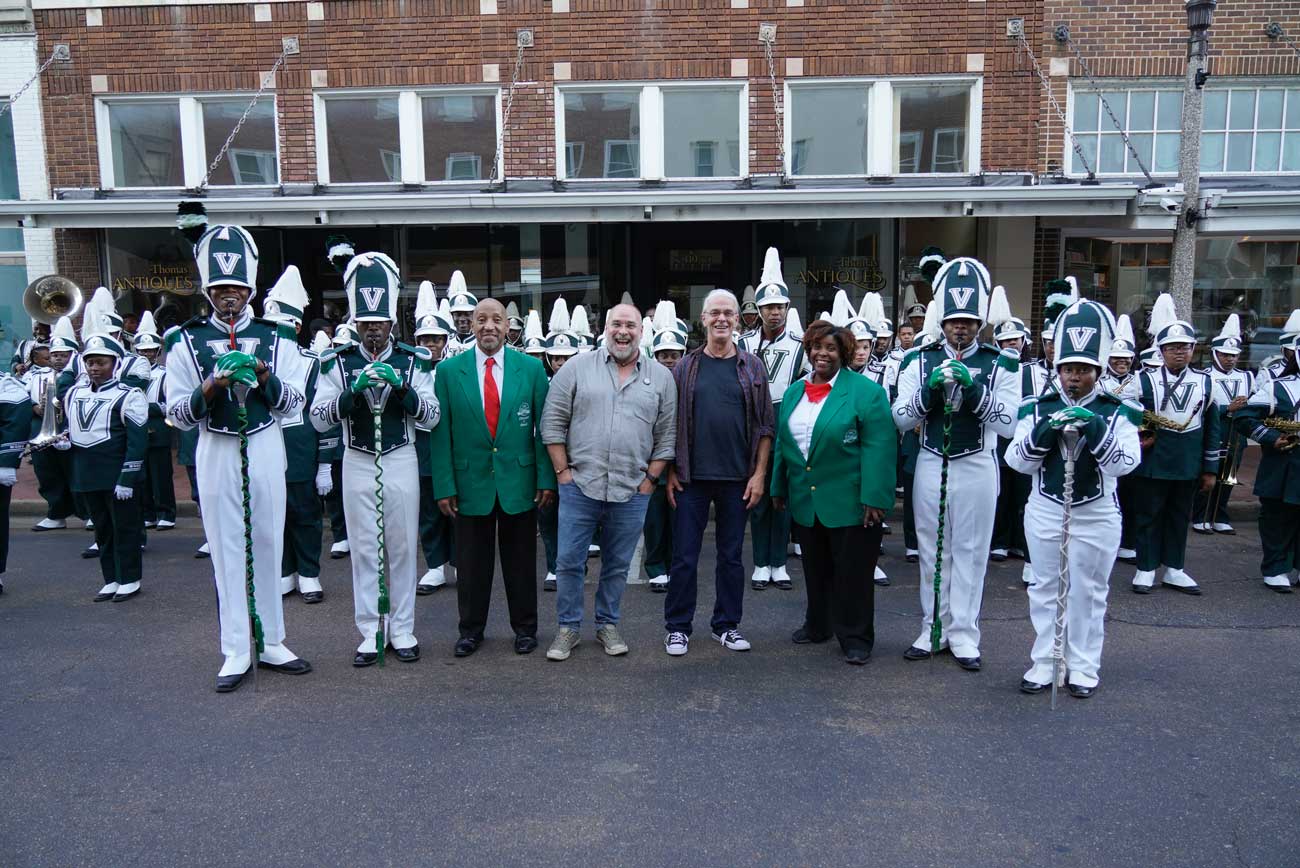 Every day of the journey started with a Bloody Mary and mimosa breakfast (did I mention that we had a full bar and bartender on the bus?), and we closed every night with live music. Our second morning kicked off with breakfast at Greenwood's Fan and Johnny's where James Beard-nominated chef Taylor Bowen Ricketts served fried quail, cheese grits, pimento cheese hash browns, curried pineapple, and oyster biscuits, while chef, storyteller, James Beard Award winner, and all-around Pluto Plantation bon vivant, Martha Foose spun Delta yarns to the group. Waters painted a watercolor while the group ate. We boarded the bus with full bellies and headed to the Grammy Museum in Cleveland, and then to McCarty Pottery in Merigold where we ate lunch in the McCarty tea room. An afternoon bus matinee of the movie "The Help" took us all the way to Oxford where Waters and several art students in the group painted on the Square. An excellent dinner of shrimp and grits and roasted cob with ginger-chili-coconut broth was prepared by James Beard Award-winning chef John Currence, James Beard Award nominee Vishwett Bhatt, and Big Bad Breakfast chef Rusty Anderson at The Farmstead while my friend, singer-songwriter-storyteller, Cary Hudson and Katrina Miller provided original music. The guests said, "I don't know how you're going to top this."
The third day started with a biscuit breakfast on the bus as we headed set course towards Tupelo to visit Elvis Presley's birthplace. I had given our group a loose itinerary, but what the group didn't know is that I had arranged for an Elvis impersonator (they like to be called "tribute artists" these days) to stand on the side of the road five miles out of Oxford with his thumb out, hitchhiking. We picked up Jack Curtis in full Elvis regalia and he performed a concert of the King's classics, up and down the aisle of the bus, all of the way in to Tupelo. We got out to tour the Elvis Presley birthplace and the guests said, "I don't know how you're going to top this." After a barbeque lunch at Little Dewey in Starkville that included an impromptu welcome from Mississippi State University president, Mark Keenum, and a visit to the wonderful Meridian Arts and Entertainment Experience (The MAX— run, don't walk, to visit this museum as soon as you can), we had a bluegrass concert on the bus with Bill Ellison, Temperance Babcock, and Jeff Perkins all of the way to Hattiesburg. After a beautiful rendition of "Ashokan Farewell," the guests said, "I don't know how you're going to top this." We heard that statement two other times that day— after dinner at the Purple Parrot in Hattiesburg and after a blisteringly soulful concert by Grammy-winning guitarist, Vasti Jackson.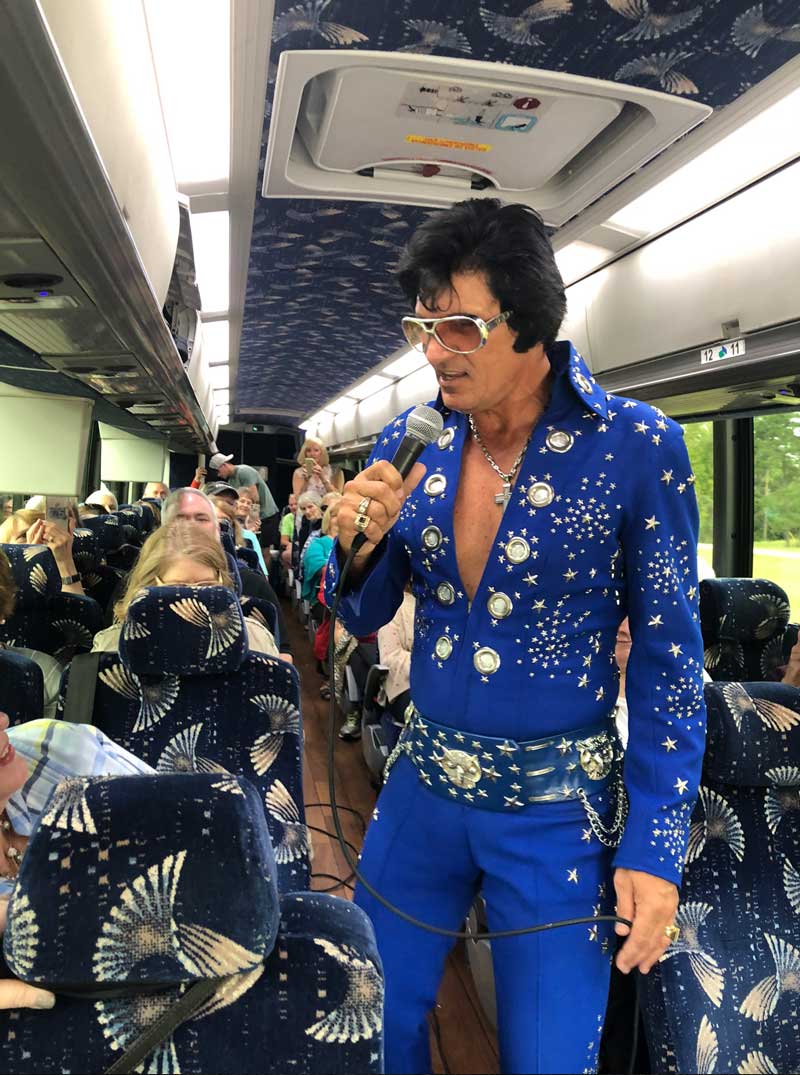 Day four began with breakfast at The Midtowner in Hattiesburg and a visit to the Ohr-O'Keefe Museum in Biloxi. After a lunch at Mary Mahoney's where Bobby Mahoney entertained the guests with jokes and local history, we visited the Seafood Industry and Maritime Museum and learned more about the area. That night Waters and I hosted our 40 guests at the Walter Anderson Museum of Art and were given a private tour of the museum by Walter Anderson's son, John. While standing in the "little room" and hearing John Anderson talk about his memories when the door to that room was opened for the first time after his father's death, I began asking myself, "How are you going to top this?" That question was almost answered when the Blackwater Brass Band cranked up and blew the roof off of the community room at the museum. I sat back in my chair and smiled as I watched our guests form a second line in a room surrounded by Anderson's murals. It was a special evening, indeed.
On day five, we began to wind it down and head home. The City of Gulfport pulled out all of the stops and had a city firetruck raise a giant American flag at the Gulfport Harbor. Our guests broke out into a spontaneous chorus of, "God Bless America." After a breakfast on the docks, and another painting by Waters, we headed for Hattiesburg for lunch at Crescent City Grill, where we loaded guests down with tons of swag to go along with all of the swag they had already accumulated along the way. The return ride to Jackson was uncharacteristically quiet for this group as everyone was anticipating having to say "goodbye" after a fun-filled week.
After all the farewells had been said, I got in my truck to drive home. I began to look back at the previous five days. Going into the trip— and this being the first time we had followed this particular schedule— we knew we would have some changes between the inaugural voyage and the next one in May. Though looking back, I couldn't find one thing that should be changed. That made me feel good, and— at the least— no one would ask, "How are you going to top that?"
Submitted this day, 2018, by recording secretary (and co-tour guide), Robert St. John
Onward.