TAVARNELLE VAL di PESA, TUSCANY— No matter where I am in the world— if it's morning— I can usually be found in some type of breakfast place. When I am here in Tuscany, my go-to is Bagnoli Pasticceria. It's a great little bakery that I discovered back in 2011. I come here almost every morning when I am in town.
On that original trip over here, my son and I woke up, drove into town, and ate breakfast. During the three-week stint in Tuscany, my friends David Trigiani and Wyatt Waters joined us at Bagnoli for breakfast. It's a small, but packed place.
Bagnoli isn't much to look at on the outside. A typical tourist would pass it by eight times out of 10. There are only four available parking spots in front of the building, and the place is so busy most locals end up parking illegally in the street. Some park in a small marked off triangle in the middle of a busy traffic lane in the approach to a roundabout. Morning traffic rushes past on both sides. I've never parked in that spot. I want to. I think I would feel very "Italian" if I did. It's a dangerous and brazen move, and only one made by the locals, but the breakfast pastries are worth the risk.
In the front room of Bagnoli there are several pastry cases filled with numerous freshly baked morning breads and sweets. Next to that is another glass display with assorted savory lunch items. Across the room are two more glass displays with beautifully decorated cakes, ornate pies, elaborate fruit tarts, and various other confections (my wife purchased my 50th birthday cake here). Running the length of the counter are two shelves filled with liquor and wine, three shelves of cigarettes, and a massive espresso machine that is in a constant state of brewing, spewing, and steaming.
The Italians do breakfast a lot different than we do. They walk into Bagnoli, point to a pastry behind the glass case and then order a cappuccino or espresso. There's a counter and a few stand-up tables in the front room. While visiting with each other, they eat their croissant— or "brioche" as they call it in a rare nod to the French origin of that particular pastry— standing up. Within a minute, the overworked lady manning the espresso machine calls out their order.
It's a 10-15-minute visit. Always standing. In-and out. Everyone is on the honor system and all pay just before they depart. That one took me seven years to figure out. I always paid when I received my pastry. The ladies behind the counter— who all know me now— were kind enough to not mention anything until few weeks ago.
I do my best to be respectful and assimilate into the culture when I am over here. I have always had the attitude that I might be the only American a certain Italian citizen ever encounters. I want to represent my country well. At this point I should apologize to all of my fellow Americans, as I frequently let you down. Namely in the wine and coffee category.
I stopped drinking alcohol on May 25th, 1983. I haven't had a drop since. Alcohol doesn't work for me. Actually, in my case, it works against me, and I am a much better human being— and a much more responsible and productive one—  with it completely out of my life. Don't get me wrong, I'm happy for others to drink. I own two bars. Both of which are going to help put my kids through college.
Being sober is a little awkward in the heart of the Chianti Classico region, especially when one is in charge of co-hosting tours of 25 Americans through wine country with multi-course dinners and numerous wines. It's not awkward for me at all. I've had almost 35 years of saying, "no thank you, I've already had enough." It's just baffling for the owners of the restaurants. The servers often try to pour me a glass. I always decline. They look at me so sadly. It's a look of both bewilderment and pity that says, "You poor man, don't you know what you're missing?" I have gotten used to that look over the years. I don't usually go into details, and they end up placing an extra bottle of water at my spot.
I am a different animal to the Italians. I outweigh almost all of them by at least 50 pounds. I don't drink wine, I eat a lot (it's all research and development, or at least that's my justification), and I don't drink coffee. The last one might baffle them the most, especially at this bakery in the morning.
At home I drink tea. Iced. Sometimes hot, but mostly iced. I drink a lot of tea, seriously, think about what you think would be a lot of tea to drink, and then double it. That's how much tea I drink. I don't use sugar in my tea, but often some type of artificial sweetener. My go-to beverage at home is not readily available over here. It's nothing I complain about, or lament, even. It's just the way it is, and I accept it.
But I do need an occasional shot of caffeine, and that comes in the form of a cola. I always discourage the guests who travel with us from ordering American soft drinks. "Let's be in Italy," I say, and I NEVER drink a soft drink in front of them. I keep a few in the villa refrigerators just in case they want one in the afternoon. At Bagnoli in the morning, I am usually by myself, or with Waters, my co-host on these tours and my collaborator in book publishing (a professional coffee drinker, by the way). I always order a Coke Zero. Actually, I don't order it, the ladies know what I want and put it on the counter. I never feel more like an American tourist than in that moment. The place is bustling with skinny Italians, eating pastries and downing espresso, and I'm walking through the crowd with a small American soda can.
The walk of shame is worth it to eat one of my all-time favorite morning pastries, made here at Bagnoli. It's a round little beauty with a flaky crust on the outside that is like a cross between a multi-layered, buttery, croissant and the absolute lightest pie dough you have ever, ever tasted. It's usually straight-out-of-the-oven warm and filled with ham and fontina cheese. Trust me, I know breakfast pastries, and this, my friends, is breakfast-pastry perfection.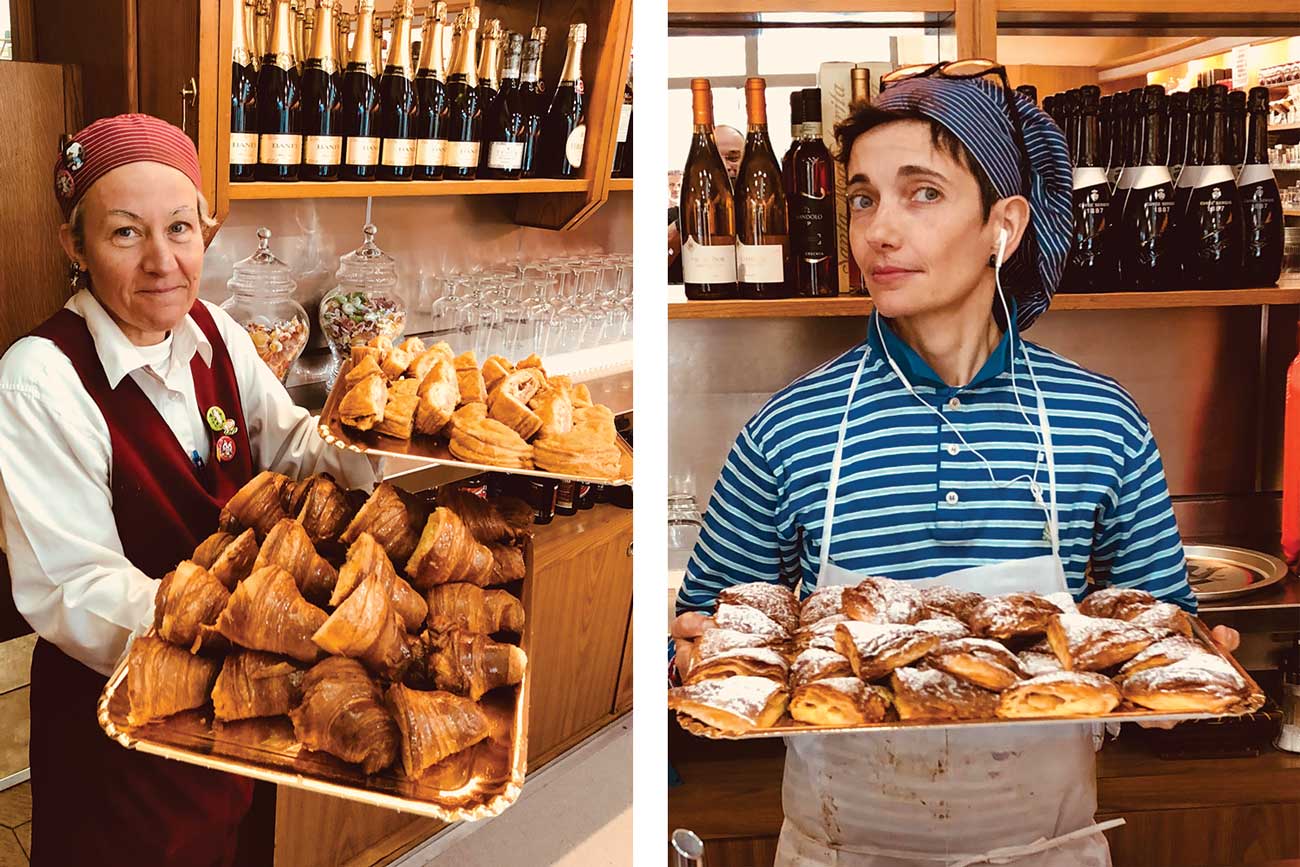 Most Italians— at least at the pasticceria— don't eat anything savory in the morning. They opt for one of the several varieties of sweet brioche. I get the feeling that the savory items are there for them to purchase in the morning and take with them for a later lunch. In addition to drinking the soft drink, I opt for savory over sweet. Possibly a double misstep, but that pastry is so good I could care less what anyone might think about eating savory over sweet in the morning.
I am currently sitting at a table in Bagnoli in a side room by a window away from the bustle of the main bakery. I have always loved breakfast joints. They seem the most egalitarian of all dining concepts. In here, city street workers and olive growers stand elbow-to-elbow with architects and attorneys. It's busy, and the crowd turns over every 15 minutes or so. They go for a quick bite, down a demitasse of espresso or cappuccino, and then they're on their way. These people would never think of pulling up to a drive-through window in their car to get a cup of coffee in a paper cup. I'm not editorializing for one lifestyle or the other. I don't even drink coffee. It's just the way they live over here.
We are in the final week of a month-long journey in which Waters and I have led three groups through this— our favorite— part of the world. He's completing paintings for our next book, and we are both introducing our American guests to our favorite people, places, ristorantes, trattorias, osterias, wineries, pasticcerias, and bars.
Of all of the Italian concepts, pasticcerias and bars are the places I frequent most. "Bar" over here is different than "bar" back home. Over here a bar is a place where the community gathers. Breakfast is consumed standing up, and lunch— when offered— is limited and inexpensive. Our favorite bar is run by Paolo, with his mother, Guliana, in the kitchen. She is an excellent cook and we'll be taking our group there for lunch today.
In the meantime, I am watching the morning ritual in Bagnoli Pasticceria, debating on whether I should go back for, yet another, pastry. After all, there are only a few days left over here. I'll be here tomorrow, and the next day, and probably the next. And maybe one of those mornings I'll even park in the middle of the street at the roundabout.
Onward.