Over the course of my 56 years, I have accumulated a little wisdom. One thing I know for sure is that there are some people who make other people feel good by being in their presence. There are also some places that make people feel good by just being there. Last week, I got a double dose of both of those things — being with my wife at Blackberry Farm for our 25th anniversary.
On the way back home to Hattiesburg, we stopped off in Madisonville, Tennessee, at Benton's Smoky Mountain Country Hams — a place that makes me feel good by just being there — to see my friend, Allan Benton — a man who always makes me happy just being in his presence. Benton is the epitome of a gracious, country gentleman. He is also the nation's premier curer of country hams and bacon.
Benton is known because he smokes and cures the best country ham and bacon in the country. My friends, THAT is something to be known for. I'll take one Allan Benton over 20 Washington politicians, 30 all-star athletes and 40 Hollywood actors, any day. When it comes to celebrities — in my book— Allan Benton takes the cast-iron skillet.
I first heard of Benton back in the late 90s. A chef friend in New Orleans served some of  Benton's bacon and it was amazingly flavorful. I went back to the kitchen and said, "Tell me about this bacon!"
He said, "It comes from Allan Benton in the foothills of the Smoky Mountains in Tennessee." He had heard of Benton through John Fleer, who at the time, was the executive chef at the aforementioned Blackberry Farm. Fleer was sourcing local and Benton was just a few miles down the road.
Back then, not many had heard of Allan Benton. New York's Tom Colicchio had yet to place his first order with Benton; which would eventually lead to David Chang placing an order; which would then lead to more than 70 New York restaurants ordering the world's best bacon in a matter of months. New Yorkers finally learned what we have known all along — Southerners know how to treat pork. And Allan Benton does it best.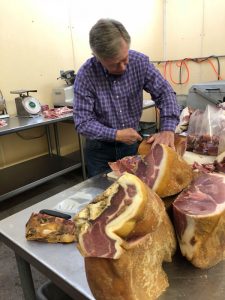 It turns out that I was one of the first people to write an article about Benton, who had been curing bacon and ham for more than 20 years at that point. Business grew, notoriety mushroomed, press clippings piled up and Benton didn't change a thing. That is the beauty and the most telling character trait of Allan Benton. He is one of the most genuinely humble people one could ever meet — a true Southern gentleman. On top of that, he smokes and cures the best bacon on the planet. Period. End of story.
During our visit, Benton and I caught up, talked about old times, compared notes about recent trips to Spain and the differences between Jamon Iberico and country ham. I left as I always do, with a carload of bacon, ham and sausage, the latter being a rare commodity that can't be shipped and can only be purchased in person.
Benton's facility has grown over the years, though Benton's congenial nature hasn't changed a lick. He's still the polite, humble guy he always has been. If you put Benton in a room with the nation's top chefs, he — in their eyes— is a rock star on steroids.
If you have never tried Benton's bacon, you should immediately stop reading this column, dial (423) 442-5003 and order some (tell Allan I said, hi).
I believe that money and material things aren't a legitimate source of inner peace. Benton's bacon is. When your order arrives, guard it with your life. Selfishness is acceptable in this one instance. Though when you cook Benton's bacon, don't use the typical procedures you employ when cooking grocery-store bacon. Highly-cured bacon takes about half as long to cook. Use a cast-iron skillet and remove it from the skillet when it looks half cooked (trust me, it's done). Drain on a paper towel, and thank me later.
Benton will tell you there's no trick to making his bacon and ham. It's true. That little smoker he's used for decades is nothing fancy. The key is time. And porcine perfection takes time.
Grocery store bacon is typically quick-cured using a chemical process that takes a few hours. Benton's process uses salt, sugar and time — months, even. His hams can take years to cure. Most people don't have time for that. Benton wouldn't have it any other way. He cures hams and bacon the way our grandparents' grandparents did it. Modern progress over time is good in many areas of life. In the bacon and ham business, there is no modern method that will ever beat the tried and true methods of smoke, salt, sugar and time.
Onward.